Analisis Dampak SE Menpan RB No1 Tahun 2021 Terhadap Kinerja Keuangan Perusahaan Sektor Telekomunikasi
Randy Heriyanto

Politeknik Negeri Padang
Keywords:
Debt to Equity Ratio, Total Assets Turnover, Return on Assets, Financial Institutions
Abstract
In this day and age, people are starting to adjust to the new normal order of life while going through the COVID-19 pandemic. In 2020, people suddenly adjusted the flow of work that is usually done in the office to be at home, known as Work from Home. However, this change has begun to be adapted by the community in 2021. People have started doing office work or at home in accordance with the regulations of their respective agencies. This regulation is also emphasized in the imposition of restrictions on community activities regarding the enforcement of ASN employee discipline. During 2020, people have used internet services to support work done at home. By adapting to the new normal, it is possible for employees to work in the office by prioritizing health and safety. The purpose of this research is to look at the differences in the financial performance of companies in the information technology sector as internet service providers due to the SE Minister of PAN-RB No.1 of 2021. In this study, differences in financial performance were found, namely during the pandemic, namely in the Total Asset Turnover section which had an effect on significant during the COVID-19 pandemic in the second year. The results found are companies engaged in the telecommunications sub-sector can earn high profits with their assets
References
Ang, Robbert. 1997. Buku Pintar Pasar Modal Indonesia. Jakarta: Mediasoft Indonesia.
Kasmir. 2013. Analisis Laporan Keuangan. Jakarta: PT. Rajagrafindo Persada.
Abdullah, Hilmi dan Eka Merdekawati. 2015. Pengaruh Return on Assets (ROA), Return On Equity (ROE), Current Ratio (CR), dan Debt to Equity Ratio (DER) Terhadap Return Saham. Jurnal Ekonomi dan Bisnis, Vol. 8, No. 2.
Oliyan, Fitra. 2016. Pengaruh Kinerja Keuangan Perusahaan dan Faktor Makroekonomi Terhadap Return Saham Perusahaan yang Terdaftar di Bursa Efek Indonesia Periode 2010-2014. Program Magister dan Doktor Fakultas Ekonomi Universitas Andalas.
Heriyanto, R., & Oliyan, F. (2020). Analisis Perbedaan Kinerja Keuangan Atas Kebijakan POJK 11/POJK. 03/2020 Terhadap Perusahaan di Subsektor Lembaga Keuangan Yang Terdaftar Di Bursa Efek Indonesia. Akuntansi dan Manajemen, 15(2), 56-62.
Fahmi, Irham. 2011. Analisis Laporan Keuangan. Lampulo: ALFABETA.
Harahap, S. S. .2007. Analisis Krirtis Atas Laporan Keuangan. Jakarta: PT.Raja Grasindo Persada
Jumingan. 2006. Analisis Laporan Keuangan, Cetakan Pertama, PT Bumi Aksara, Jakarta.
Munawir, S. 2012. Analisis Informasi Keuangan, Liberty, Yogyakarta.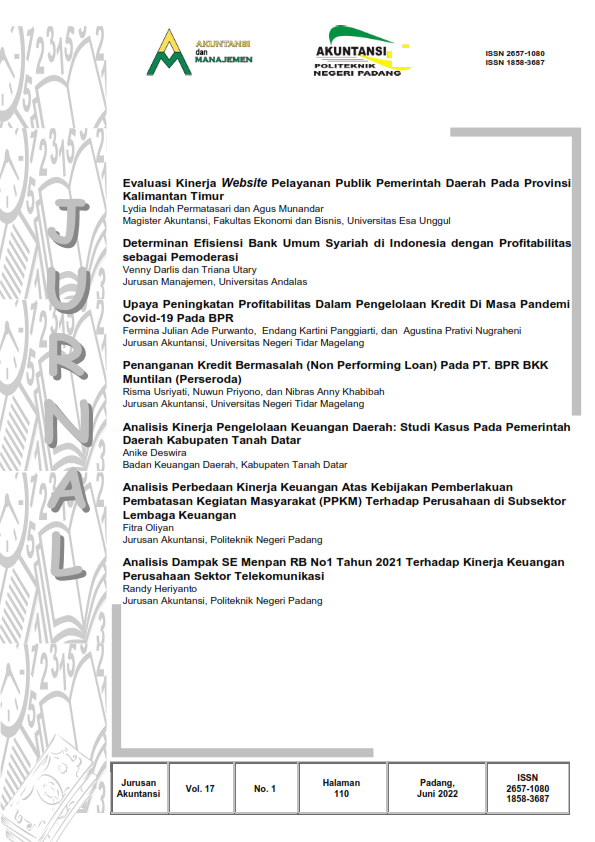 How to Cite
Heriyanto, R. (2022). Analisis Dampak SE Menpan RB No1 Tahun 2021 Terhadap Kinerja Keuangan Perusahaan Sektor Telekomunikasi. Akuntansi Dan Manajemen, 17(1), 100-110. https://doi.org/10.30630/jam.v17i1.149