Upaya Peningkatan Profitabilitas Dalam Pengelolaan Kredit Di Masa Pandemi Covid-19 Pada BPR
Fermina Julian Ade Purwanto

Jurusan Akuntansi, Universitas Negeri Tidar Magelang

Endang Kartini Panggiarti

Jurusan Akuntansi, Universitas Negeri Tidar Magelang

Agustina Prativi Nugraheni

Jurusan Akuntansi, Universitas Negeri Tidar Magelang
Keywords:
Profitability, Credit Management, Pandemic Covid-19
Abstract
The purpose of this study is to find out the bad credit management implemented by PT. BPR BKK Muntilan (Perseroda), to find out the credit management mechanism of PT. BPR BKK Muntilan (Perseroda), to find out the profits obtained and efforts to increase profitability. Collection techniques by means of observation in the field of credit and the field of funds, interviews conducted by 2 speakers in the field of credit and the field of funds and 1 resource person in the field of marketing, documentation with several employees related to profitability in credit management and literature studies. This type of case study research approach with qualitative descriptive analysis that explains and describes actual events without being engineered in narrative form. The results showed that the management of bad loans implemented by PT BPR BKK Muntilan (Perseroda) in accordance with the applicable provisions and its application was good, but there were obstacles in the management of bad loans so that it carried out several elements of internal control, credit management mechanisms implemented and profits obtained based on profitability ratios and efforts made to increase profitability during the Covid-19 pandemic.
References
Amin, R., Rafsanjani, H., & Mujib, A. (2017). Faktor-faktor yang Mempengaruhi Non-Performing Financing: Studi Kasus Pada Bank dan BPR Syariah di Indonesia. Jurnal Masharif al-Syariah: Jurnal Ekonomi dan Perbankan Syariah, 2 (2).
Anggraeni, R. K. (2014). Analisis Pengelolaan Kredit Untuk Meningkatkan Likuiditas Dan Profitabilitas (Studi Pada PT. BPR Wlingi Pahala Pakto) (Doctoral dissertation, Brawijaya University).
Bilgies, A. F. (2019). Analisis Sistem Pengendalian Kredit Yang Efektif Guna Meningkatkan Profitabilitas (Studi Pada Pt. Bpr. Bina Nusa Cabang Gresik). Jurnal Ekonomi Universitas Kadiri, 4(2).
Desrahayu, A. (2019). Analisis Pengelolaan Kredit Pada Pt. Bank Perkreditan Rakyat Ganto Nagari 1954 Lubuk Alung.
Hakim, L., & Oktaria, T. (2018). Prinsip kehati-hatian pada lembaga perbankan dalam pemberian kredit. Keadilan Progresif, 9(2).
Indonesia. Undang-Undang Nomor 10 Tahun 1998 tentang Perubahan Atas Undang-Undang Nomor 7 Tajun 1992 tentang Perbankan. Lembaran Negara Tahun 1992 Nomor 31. Lembaran Negara Nomor 3472. Sekertariat Negara. Jakarta.
Kaunang, C. A. (2013). Analisis perbandingan kinerja keuangan perusahaan menggunakan rasio profitabilitas dan economic value added pada perusahaan yang tergabung dalam LQ 45. Jurnal EMBA: Jurnal Riset Ekonomi, Manajemen, Bisnis dan Akuntansi, 1(3).
Laoli, V. (2019). Analisis Pengembalian Kredit Terhadap Profitabilitas Pada PT Bank Sumut Cabang Gunungsitoli. Owner: Riset dan Jurnal Akuntansi, 3(2), 160-170.
Lestari, A. D. (2014). Analisis Efektivitas Pengelolaan Piutang Pada PT. Pasti Djadi Di Surabaya (Doctoral dissertation, Universitas Katolik Darma Cendika Fakultas Ekonomi).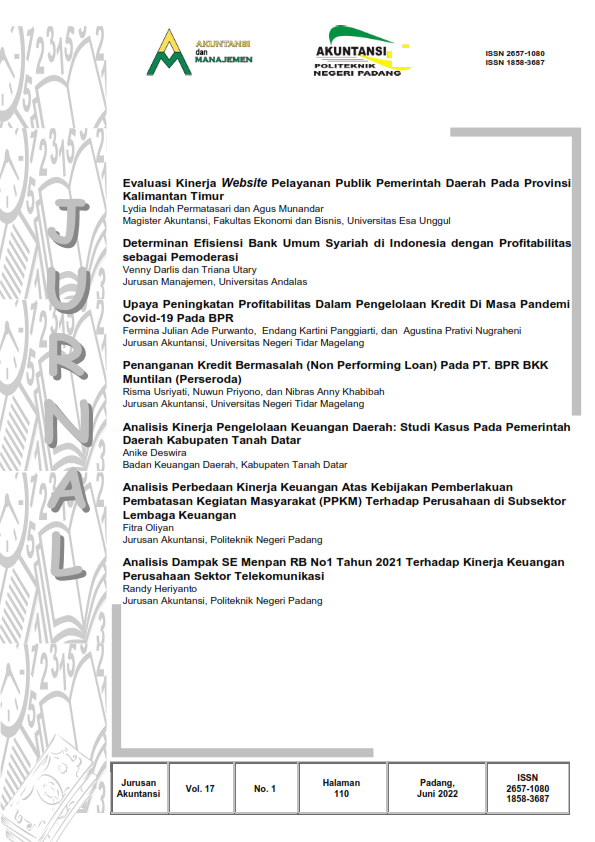 How to Cite
Fermina Julian Ade Purwanto, Panggiarti, E. K., & Nugraheni, A. P. (2022). Upaya Peningkatan Profitabilitas Dalam Pengelolaan Kredit Di Masa Pandemi Covid-19 Pada BPR. Akuntansi Dan Manajemen, 17(1), 40-59. https://doi.org/10.30630/jam.v17i1.175