Analisis Kinerja Pengelolaan Keuangan Daerah dan Tingkat Kemandirian Daerah: Study Kasus Pada Badan Keuangan Daerah Kabupaten Tanah Datar
Anike Deswira

Badan Keuangan Daerah, Kabupaten Tanah Datar
Keywords:
Independence, Harmony, Growth, Effectiveness
Abstract
Regional autonomy is the authority to regulate the interests of the community itself or the interests to make rules to manage their own area. Tanah Datar Regency in 2016-2020 has several main problems, namely the largest source of regional income still comes from transfer income from the central government. In terms of spending, capital expenditures are still very low, regional financial growth. Regional original income that is still not able to meet regional expenditures to the fullest. This study aims to determine how the financial performance of the Tanah Datar Regency government in 2016-2020 is measured using regional financial ratios. This research is a research using qualitative descriptive method. To collect data used observation, interview and documentation methods. The data used in the form of primary data and secondary data. The primary data used comes from the financial statements of Tanah Datar Regency 2016-2020. Secondary data comes from interviews with several employees within the Regional Finance Agency of Tanah Datar Regency. The results of the analysis show that the financial performance of the Tanah Datar Regency government in terms of (1) the independence ratio shows that Tanah Datar Regency is still not independent, judging from the degree of fiscal autonomy of Tanah Datar Regency only around 10 % (2) the alignment ratio of the Tanah Datar Regency Government prioritizes operational expenditure compared to capital expenditure, with an average expenditure for operational expenditure of 71,91 %. Meanwhile, for capital expenditure the average expenditure is 13,80 % (3) for the regional financial growth ratio, the results are still very low, with an average percentage of 6,33 % (4) for the ratio of the effectiveness of local revenue in Tanah Datar Regency, it is practically not very effective, this can be seen by the average achievement of effectiveness of 96,50 %.
References
(1) Amin, N. (2015). Analisis Kinerja Pengelolaan Keuangan Daerah dan Tingkat Kemandirian Daerah Di Era Otonomi Daerah: Studi Kasus Kabupaten Bengkalis. Bengkalis: Jurnal Iqtishaduna (Ekonomi Kita).
(2) Halim, A. (2012). Manajemen Keuangan Daerah Edisi Revisi. Yogyakarta: UPP AMP YKPN.
(3) Halim, A. (2014). Manajemen Keuangan Sektor Publik problematika penerimaan dan pengeluaran pemerintah. Jakarta: Salemba Empat.
(4) Halim, A. (2017). Akuntansi Keuangan Daerah. Yogyakarta: Salemba Empat.
(5) Mahmudi. (2016). Analisis Laporan Keuangan Pemerintah Daerah. Yogyakarta: STIM YKPN.
(6) Putra, W. (2018). Tata Kelola Ekonomi Keuangan Daerah. Depok. Rajawali Press.
(7) Siregar, A. (2020). Analisis Kinerja Keuangan Pemerintahan (Studi Kasus: Pemerintahan Kota Depok-Jawa Barat), Volume 9. Journal IMAGE Number 1, page 1-19.
(8) Sugiyono. (2012) Metode Penelitian Administrasi. Bandung: Alfabeta.
(9) Utomo, D.P. (2011). Analisis Rasio Keuangan APBD sebagai Tolak Ukur Penilaian Kinerja Keuangan Pada Pemda Kabupaten Lombok Timur Tahun Anggaran 2007-2009. Jurnal Education, 4, 57-80.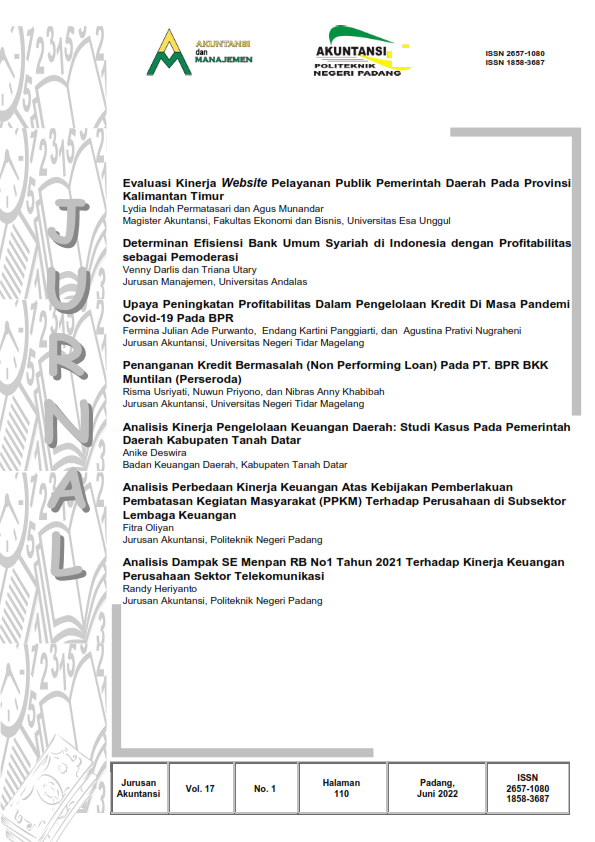 How to Cite
Deswira, A. (2022). Analisis Kinerja Pengelolaan Keuangan Daerah dan Tingkat Kemandirian Daerah: Study Kasus Pada Badan Keuangan Daerah Kabupaten Tanah Datar. Akuntansi Dan Manajemen, 17(1), 74-90. https://doi.org/10.30630/jam.v17i1.181