Sistem Informasi Skema Pelaporan Alokasi Dana Desa Pada Nagari
Keywords:
System, information, Report, Fund, Village
Abstract
Village funds in the nagari are budgeted by the central government which are distributed to all corners of the village/nagari in Indonesia, the funds are used for activities that support the progress of the village/nagari. The information system for reporting village fund allocation schemes at the nagari is designed to assist the nagari office in the process of reporting the realization of village funds in the form of a special application with the best security system so that the realization of village funds is presented more quickly, precisely and efficiently. In this study, the author uses research methods through observation and interview data collection methods as well as system development methods, namely the Development Life Cycle System (SDLC) and a tool for designing an information system. designed. The village fund allocation reporting scheme information system in Nagari Ladang Laweh is designed to be implemented in a programming language, where the programming language used is Visual Basic 2010 with MySQL DBMS. After the research was carried out, a more structured information system was produced and was very helpful for the Ladang Laweh village office in facilitating the making of village fund allocation reports that were able to process village fund allocation reports quickly, precisely and efficiently so as to produce accurate reports and facilitate the mayor in the decision-making process. for the next budget submission.
References
Ghazali, R., Fahmi, M., & Katiallo, T. (2018). Analisis Pertanggungjawaban Alokasi Danadesa Dengan Pendekatan Good Governance Pada Desa Talang Buluh Kabupaten Banyuasin. … Jurnal Akuntansi …, April, 334–340. https://jurnal.um-palembang.ac.id/balance/article/viewFile/1157/991
Nafidah, L. N., & Suryaningtyas, M. (2016). Akuntabilitas Pengelolaan Alokasi Dana Desa Dalam Upaya Meningkatkan Pembangunan Dan Pemberdayaan Masyarakat. BISNIS : Jurnal Bisnis Dan Manajemen Islam, 3(1), 214. https://doi.org/10.21043/bisnis.v3i1.1480
Pakpahan, S., & Halawa, A. F. (2020). Sistem Informasi Pengelolaan Dana Desa Pada Desa Hilizoliga Berbasis Web. Jurnal Teknik Informatika Unika St. Thomas (JTIUST), 05(01), 109–117. http://www.ejournal.ust.ac.id/index.php/JTIUST/article/view/767/821
Setiawan, F. A., Setiaji, P., & Triyanto, W. A. (2018). Sistem Informasi Pengelolaan Pelaksanaan Dana Desa Berbasis Responsive Web Design Di Kabupaten Kudus. SITECH : Jurnal Sistem Informasi Dan Teknologi, 1(1), 31–40. https://doi.org/10.24176/sitech.v1i1.2274
Sufaidah, S., 1), Arifin, M. Z., 2), Chumaidi, M., & 3). (2020). SISTEM INFORMASI PELAPORAN REALISASI ANGGARAN PENDAPATAN DAN BELANJA DESA BERBASIS WEB. NJCA (Nusantara Journal of Computers and Its Applications), 3(1), 66–72.
Widiarto, 1, Sarjan, M., 2, Harianto, & 3. (2021). SISTEM INFORMASI PELAPORAN PENGGUNAAN DANA DESA BERWASIS WEB. Journal JPCS Peqguruang: Conference Series, 3(1).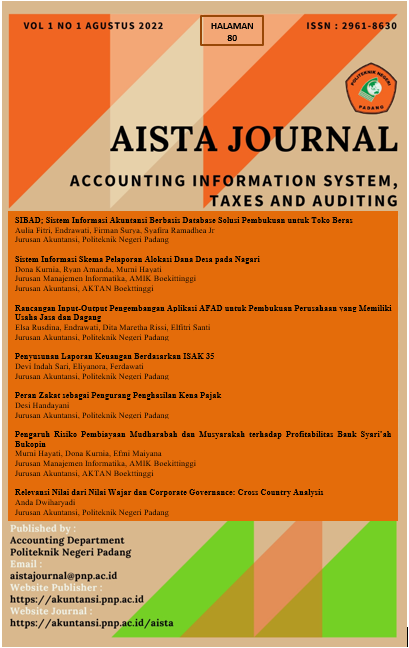 Downloads
How to Cite
Dona Kurnia, Ryan Amanda, & Murni Hayati. (2022). Sistem Informasi Skema Pelaporan Alokasi Dana Desa Pada Nagari. Accounting Information System, Taxes and Auditing Journal (AISTA Journal), 1(1), 15–26. Retrieved from https://akuntansi.pnp.ac.id/aista/index.php/aista/article/view/3
License
Copyright (c) 2022 Dona Kurnia, Ryan, Murni
This work is licensed under a Creative Commons Attribution 4.0 International License.